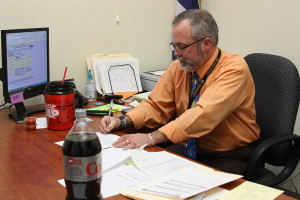 Mr. Michael Butler was offered a position at Virtual High School and will be joining their staff permanently on Dec. 12. His last day is today.
"SWCTA has the best students, bar none, in the Clark County School District. Never give up, always strive to give your best, and DFTBA (Don't forget to be awesome)," Butler said.
He will be Virtual High School's new assistant principal, where he will be supervising the teaching staff and helping to develop distance education.
"The only real difference between SWCTA and VHS is that there won't be students on campus," Butler said.
The staff of the Southwest Shadow wishes Mr. Michael Butler the best!