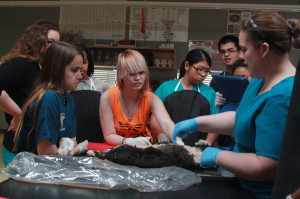 Starting Jan. 22, seniors in Ms. Jennifer Conder's Anatomy and Physiology class began dissecting cats.
"For this project, we are going to apply what we learned in first semester to the dissection of these cats. We are supposed to be taking videos along with the dissection in order to present it to our peers in the future," senior Kristelle Dealca said.
Students must know the muscles and internal organs of both humans and cats in order to dissect the animals and take videos of the procedure. The videos must be an original work that includes the dissection process of each body system they identify.
"We use cats because they are mammals and their body structure is the most similar to humans. We could use fetal pigs, but their muscles aren't fully developed yet, so it wouldn't be beneficial to the students," Conder said.

Loading ...
Cat dissections relate to similar surgical procedures involving human surgeries. The students will learn the importance of each system in the body, distinguish all of the organs, and how the organs work together to function.
"I believe this is a good way to get a jump start in my medical school career because rather than seeing organs in ink on paper, I'm actually interacting with organs similar to a human's," senior Jessica Wolf said.
Once the students are done with the last body system, the reproductive system, they will create and edit their videos. The presentations for the videos will take place on May 6-17.
"The video must be at least 10 minutes long and show the process of dissecting the cats. The videos need to show that we researched about the cat's body, especially if the cat had a disease," senior Moses Crook said.