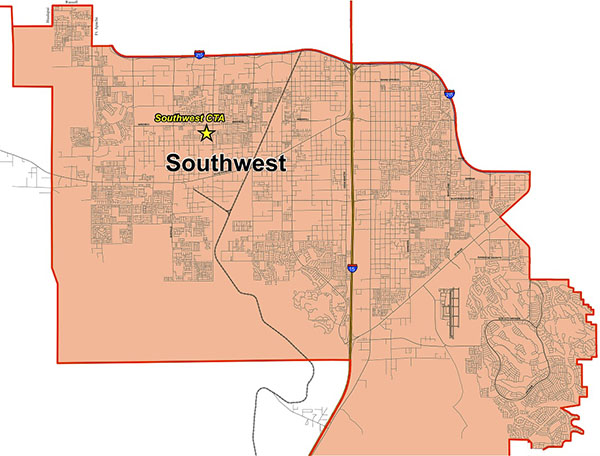 In an attempt to cut transportation budget costs, the Clark County School District has announced a zone change in which the bus routes will no longer be shared with West CTA starting the 2014-2015 school year.
"Both me and my brother take the bus to school, and since my sister is going to be a freshman next year, she won't be able to take the bus with us because of the new zone change. That means I'm probably going to have to get my license or my parents will have to drive us all the time," sophomore Christopher Dizon said.
Originally designed as separate zones, it was decided to merge them to allow for greater recruitment opportunities after the height of the economic depression in 2009. WIth the economy forecasted to continue improving and the southwest population growing, it was decided to return zoning to the original plan.
"A lot of students are missing the opportunity to go to this school and it's not fair," freshman Rhe Ventura said.
Students currently being bussed in the original transportation zone will still be eligible for transportation until they graduate. The Class of 2018 will be zoned entirely within the new transportation boundaries.
The new zone ends at 215-North and Rainbow Blvd. This zone includes major neighborhood communities such as Anthem and Southern Highlands.
"I'm glad I can still take the bus next year, but I feel like it's not fair to the upcoming classes who need to take the bus to school because what if they don't have transportation?" freshman Jaidah-marie Sukaneeyouth said.
SWCTA and WCTA began sharing transportation zones after WCTA's opening in 2010, a year after SWCTA. Both schools have now had their first graduating class and have reached their full enrollment at each grade level.
"I understand the need for having the transportation zones, but I think all students in the district should have better access to the programs of study that are not available within their transportation zone," Community Partnership Coordinator Mr. Craig Statucki said.
Questions regarding zoning boundaries and bussing may be answered by CCSD Transportation  at (702) 799-8100.
"I kind of like this new zone change, but then I also don't. I won't have to wake up as early as I would have to if I were to take the bus, but then that would mean that we would need a lot of gas money," incoming freshman Brenda Chiang said.