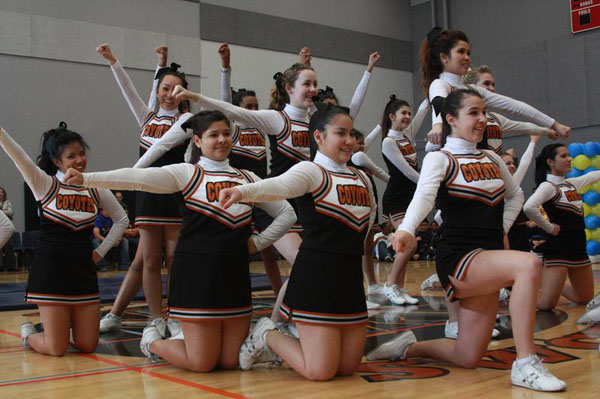 Cheer tryouts for the 2013-14 school year will be held in the gym from May 6-10. Boys and girls, of any grade level, are welcome to try out for either varsity or junior varsity squad. However, in order to try out, students must turn in their tryout packet to Coach Cindi Chang in room C126 by May 3.
"In addition to the cheerleader tryouts, we are also going to need people to try out for mascot stunting," Chang said.
Chang and Co-Coach Sheilah Petrosky are also looking for a mascot who will be available to assist school events with the cheerleaders. Recently, the Cheer Club placed second in their division at the Sharp International Las Vegas Nationals Competition after qualifying at the Knott's Berry Farm State Competition.
"The girls are so fun to be around, and we are literally like a family," sophomore Deanne Dimatulac said.
In addition to the tryout requirements, such as a physical examination from a physician, and an insurance packet, an informational meeting will be held on Apr. 30 for students and parents at 6 p.m. Past cheerleaders are required to try out again, and incoming freshmen are also able to try out. However, students must keep in mind that there are less than 40 spots available on the squad.
"Practice for the mascots will probably be once a week, and they can be in any grade," Chang said.
Students will be able to submit their ideas for the coyote mascot. For more information, please visit http://swcta.net/cheer/.

Loading ...