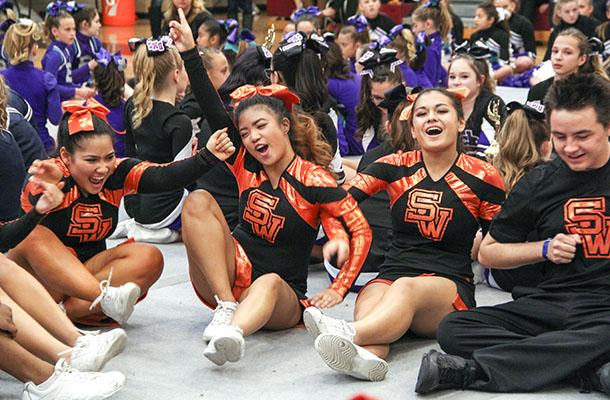 The cheer team will be competing in the United Spirits Association Nationals for High School Spirit competition from March 20 through March 22 in Anaheim, Calif.
"Going to nationals this year is very exciting, because it will be our first time going and the fact that we also get to go to Disneyland as a team is a rewarding feeling," junior Katrina Palaca said.
They will be competing in the Varsity Co-ed Intermediate Division.
"It's our first time competing in that division so it's exciting, but also nerve wracking and I'm really glad to have been given the opportunity of being captain. Although it's sometimes stressful it's all worth it when we perform in front of audiences and win first place," senior Deanne Dimatulac said.
To qualify for nationals, the cheer team was required to score a minimum of 75 points from all the judges at the 2015 Vegas Classics competition held on Jan. 10.
"We won our first award last month, but we won all of our competitions last year. In total we have about four awards," cheer team adviser Sheilah Petrosky said.
The total cost for the cheer team to attend nationals is $10,000. To pay for this cost, the cheer team will be hosting several fundraisers.
"We have a T-shirt sponsorship by businesses, 'Hire-a-Cheerleader' fundraising campaigns so that they can work for the teachers for a donation, and a Walk-a-Thon next Wednesday," cheer team adviser Cindi Chang said.
The Walk-a-Thon fundraiser will be held on Feb. 4 and students can participate by pledging a cheerleader.
"Going to nationals will be expensive. Most, if not all, will partake in a form of fundraising to make up the costs and the expenses. I am looking forward to competing and giving my all," senior Sergio Aldaba said.
In order to prepare for their competition, the cheerleaders have practice after school every Monday and Wednesday from 2 p.m. to 4 p.m. They also practice their tumbling and stunting skills at the Las Vegas Elements gym.
"Going to the Elements Gym has helped our team immensely. We spend two hours there just stunting and making our team stronger. Overall, I'm so proud of this team and I know we will go great lengths," sophomore Alyssa Chavez said.