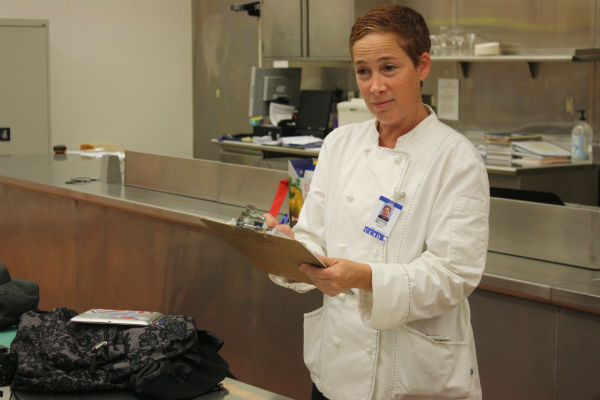 Chef Sandra Mallut has been appointed as the new Culinary Arts instructor, after the retirement of Chef Allen Asche in mid-September,
"This is my very first teaching job ever. I've taught intern chefs, but never high school students. I've wanted to teach the future young chefs for a long time and I'm so glad I finally have the opportunity to do so," Mallut said.
Mallut, who is a past acquaintance of Hospitality Program Leader Mrs. Linda Burns, flew in from Los Angeles, California on Oct. 26 and began  on Oct. 28.
"Chef Sandra is amazing. We're very glad to have her and I can't wait to work with her," senior Kyle Isaguirre said.
Now that a new instructor has been hired for the Culinary Program, the Coyote Cafe is officially in production.
"I am definitely doing the Coyote Cafe. I've been meeting with the seniors and we're working on what we want to sell to the students," Mallut said.
Mallut has said that they will sell salad, scones, muffins, sandwiches, etc. However, there is still a discussion of how many workers will be employed, when meals will be made, and how many different meals that can be offered each day.
"We want our cafe to be different and not have students buy and eat the same things from us everyday," Mallut said.
Mallut is a 2005 graduate and former intern instructor at Le Cordon Bleu College of Culinary Arts, and has been a chef in the industry for 10 years in Los Angeles, California, at The Culinary Butler Consulting Service.
"I really like Chef Sandra! I know we will learn a lot from her," junior Natasha Kalita said.
In addition, Mallut has directed the World Pastry Championship and attended large conventions and expositions such as the International Baking Expo, which is the largest baking event.
"Because of my heavy pastry background, I plan to have kids do sugar work, chocolate work, sculptures, and even liquid nitrogen ice cream," Mallut said.
Once Mallut teaches the junior students the basics of cooking, she plans to educate them in how to create and write their own recipes, and provide more time for them in the kitchen. Additionally, students cooked pancakes on Nov. 1 for the tour group visiting school.
"My advice to my students is to not sweat the small stuff in life. It's not brain surgery, it's food," Mallut said.