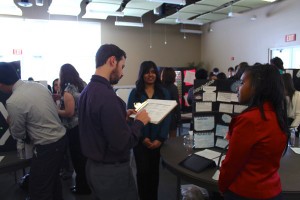 Chemistry teacher Mr. Timothy VanKirk's students presented their Chemical Reaction PBL's in the Coyote Ballroom on Nov. 26.
"The project was designed to give the students hands on experiences in performing chemistry demonstration," VanKirk said.
During the presentation, students provided a video, along with their posters, for others to view the actual chemical reaction. For safety reasons, the experiments were conducted and recorded.
"While all the kids were presenting their projects, they had videos playing of their demonstrations; it was cool to see other peoples' projects," sophomore Elizabeth Tchernogorova said.
Students presented chemical reactions such as the Dancing Gummy Bear Lab, Elephant Toothpaste and Water into Wine. The presenters explained to the observers what happened when certain chemicals mixed together.

Loading ...
"We were presenting our research skills and our ability to present in an orderly manner," sophomore Gentrit Bajrami said.