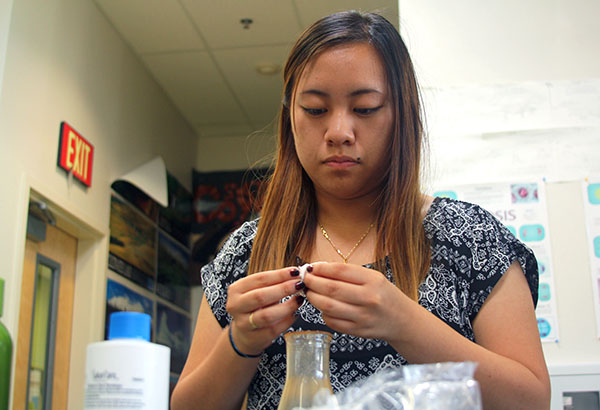 The sophomores taking Mr. Jonathan O'Brien's chemistry course were assigned an individual project to perform an experiment of their choice.
"It was kind of hard to find an experiment worth presenting, but in the end I liked executing my project," sophomore Anakatarina Charvet said.
Each student was rivaled against each other to create the most entertaining chemistry demonstration, whether it was napalm created solely from gasoline and Styrofoam or simply green fire. The student who earns the most votes from their peers will receive two large pizzas of their choice during a future combined lunch. The winner will be announced next week.
"I'm really looking forward to the prize because not only do I get a good grade, but I get a free pizza as well!" sophomore Johnny Lee said.
Each student was required to discuss the chemical and physical changes taking place during the presentation and its significance in the chemistry world.
"I think the experiments made by my classmates were really cool and showed me a side of chemistry I have never seen. Although some didn't work, I understood what they were aiming for," sophomore Kevin Camelo said.
The assignment was the starting point for a post-apocalyptic based project.
"In the spring, we will have another PBL and the students will be making a tool that works using chemistry and a lot of them will use the demo they did today and then turn those into a tool that works," O'Brien said.