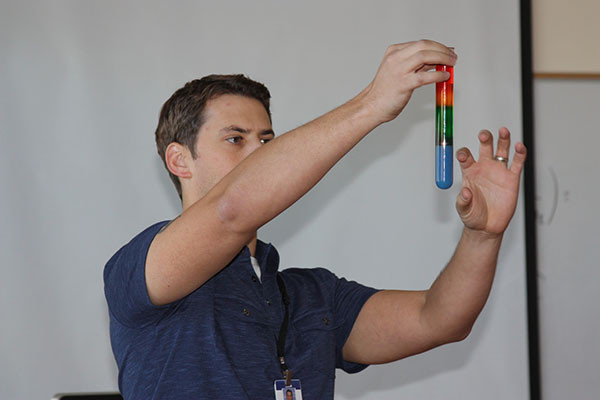 Sophomores in Mr. Timothy VanKirk's Chemistry Honors class completed their Rainbow Tube Lab on Sept. 19.
"The challenge of the Rainbow Tube Lab is to complete and have four separate colored layers in a test tube. Each layer has to have a different density with the materials provided," VanKirk said.
Many lab groups struggled to layer liquids and prevent them from mixing.
"There's a difference between knowing how to do it and actually completing the task," VanKirk said.
Groups who successfully completed the challenge had a step-by-step plan before making a move. They carefully planned how each substance would be used to separate each colored layer.
"The Rainbow Tube Lab was successful for my group because we took safe and reliable steps on how to create it," Sophomore Jessa Bermudez said.
Students conducted this experiment as an introduction to the density and measurement unit.
"I enjoyed this lab because it made PA students think a little outside of the box, and we don't usually do that. I also like the fact that Mr. VanKirk let us figure out things for ourselves, rather than giving us step by step instructions," Bermudez said.