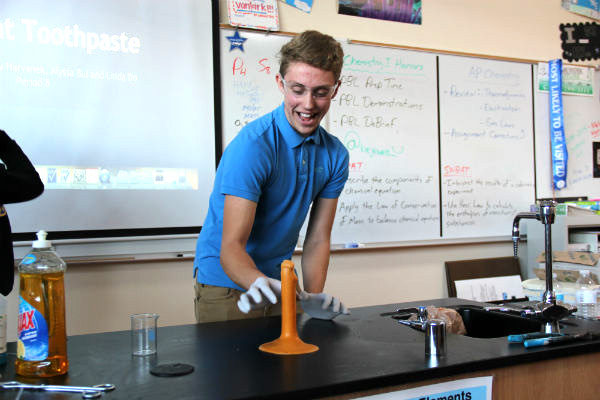 The chemistry PBL led by instructor Mr. Timothy VanKirk gave students the opportunity to select an experiment and perform in front of the class. However, students who chose to experiment with the reagent, 30 percent hydrogen peroxide, were forced to use three percent due to it burning up overnight.
"Somehow, the distilled hydrogen peroxide a lot of groups were using burned up overnight, so a week's worth of distilling went to waste and several experiments did not succeed because of this," VanKirk said.
One of the more common experiments affected by this incident involved a mixture known as "elephant toothpaste."
"My group's demonstration was 'Elephant Toothpaste' which is a rapid decomposition of hydrogen peroxide in the form of spewing foam. I was very happy with our end result because it was better than any trials we've ever done," sophomore Kevin Rodriguez said, who had presented his experiment with the original 30 percent hydrogen peroxide.
Even while students who selected a reaction involving hydrogen peroxide were forced to improvise with only three percent, they still learned about different reactions as well as present. All experiments demonstrated a chemical reaction, and students were expected to provide a lab write-up and explanation of the reaction.
"I think students fully appreciated how difficult it is to prepare these demonstrations. These things don't happen automatically. You have to do some calculations, gather your reagents, and you have to practice it. Even then, sometimes it still doesn't work. This PBL did a great job of getting that message across to students," VanKirk said.
To show full understanding of their chosen labs, students were required to have a presentation showing the balanced equation of the formula and describe what happens during the reaction.
"I was very unprepared for my presentation because I didn't know my speaking parts, so I was very nervous and spent my day freaking out," sophomore Destiny Wilson said.