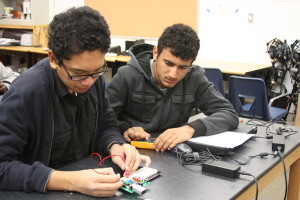 After covering the basics of analyzing circuits, sophomore students in Mr. Angelo Pappano's Digital Electronics class began constructing circuits on Dec 6.
"This is a really hands on activity that will put you ahead of most of other engineering programs," Pappano said.
Students are applying the concepts they learned in previous engineering classes, such as determining resistance and calculating voltages. By using resistors, breadboards and breadboard companions, students will be able to create circuits that will increase increase their understanding of circuits.
"Learning how to use a breadboard definitely was interesting, but trying to stick in the resistors was a difficult challenge," sophomore Omri Blit said.
Students are paired in groups of two for this assignment. After making the circuit, students must determine the circuit's theoretical charges. Then, a multimeter is used to diagnose real charges, where when finished, students will continue to build more difficult circuits.
"Making circuits is pretty cool since you get to use and learn about all kinds of components," sophomore Eleni Bazezew said.