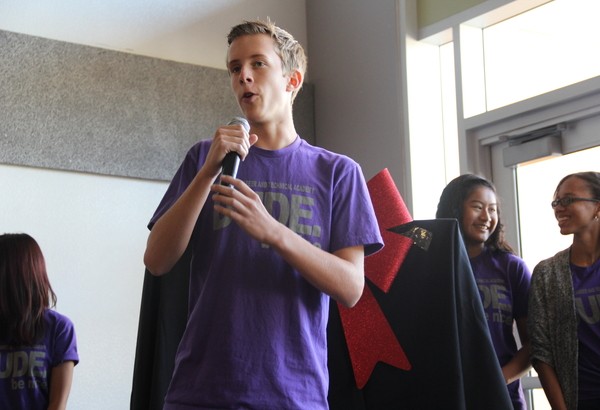 The Class of 2017 Student Council members introduced their ramen noodle fundraiser and unveiled four new microwaves today in the cafeteria during both lunches.
"All of this was entirely fundraised off of drinks and chips sold in the morning, along with PA and DA shirts," Class of 2017 President Audrey Forbes said.
The Maruchan Instant Lunch flavors that will be offered are spicy beef, spicy chicken, chicken and beef. Starting today, the ramen noodles can be purchased everyday before 6:30 a.m. and after 2:00 p.m. for $1 in the library.
"It will depend on the flavors that the store has in stock, but we really want to sell those four flavors," Class of 2017 adviser Mrs. Veronica Whiton said.
The microwaves will help to reduce long waiting lines, an issue that was brought up during sophomore class meetings, after two of the current microwaves broke.
"My students had extra money to buy them so I suggested the idea, knowing that it wasn't going to break our bank. The school needs them, and they alleviate the pain of waiting in long lines in the cafeteria," Whiton said.
The proceeds of the fundraiser will go towards the Class of 2016's prom, as it is a tradition for juniors to host prom for seniors.
"I think it's great that they [Class of 2017 Student Council members] are so invested in creating a great prom for the Class of 2016. They have been working very hard at fundraising for their class and prom," Class of 2016 adviser Mrs. Laura Penrod said.
If there is a high demand for the ramen noodles, then the fundraiser will become an ongoing event.
"We will see how our sales go, and if there is a popular demand, we will continue to sell them," Forbes said.
<center><iframe width="560″ height="315″ src="//www.youtube.com/embed/6UU83Gfve5M" frameborder="0″ allowfullscreen></iframe></center>