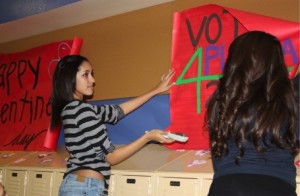 From Feb. 13 to Feb. 17, current and new members of Student Council campaigned for class officer positions. Students had the ability to put up flyers and posters in the buildings.
"I feel rather accomplished, but being that I'm not a competitive person, I just know that it is meant to be," freshman Leah DeClifford-Irwin said.
Many students ran unopposed, while a few ran against someone else.
"I know we [Hendricks and I]worked hard to get votes, so for the Senior Class of 2013, I will do my best to do anything I can for them. I also look forward to being Class President; being a leader for my last year of high school," junior Ashley Tolentino said.
Responsibilities for the officers include making wise decisions on behalf of their class and coordinating assemblies and school events. These students are now officially part of the Principles of Leadership course. Officers will begin their duties during the summer, where they will start preparing for the 2012-2013 school year.
But as Irwin puts it, "Whenever it starts, I will be prepared and just as excited as ever."