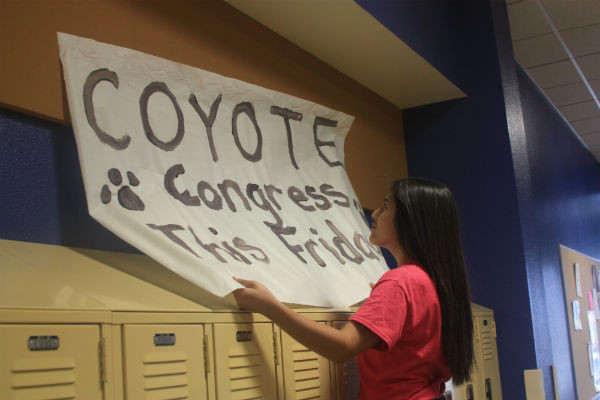 Student Council will be hosting the monthly Coyote Congress on Friday, Nov. 1, and all students are encouraged to attend to receive school updates and decide which t-shirt design will represent their graduating class.
"Since it's starting to get colder in the mornings, I've been waiting for a 2014 black class hoodie!" senior Lea Ligutom said.
Students can still submit a design to their class adviser by Friday morning to either Mrs. Veronica Whiton, (2017), Mrs. Laura Penrod, (2016), Mr. Joshua Locklear, (2015), or Mrs. Jennifer Brant, (2014). Designs can either be hand drawn or computer generated, and incorporating the class motto is strongly advised.
"I love seeing designs, so I hope to see more. The more the better," Penrod said.
Students will be able to have the final say in what t-shirt will represent their class at this month's Coyote Congress.
"Some kids complain about the shirts and how they could be better. If they go to the meetings, they can have a say before it's too late," Student Body President Mia Driscoll said.
Attending the meeting will also allow students to hear about current and upcoming events happening at the school, receive updates from the student body and class officers, listen to club and program area reports, and participate in ice breakers run by Student Council VP's.
"Unfortunately, we don't get as many students as we'd like, but students should come more often because it is an opportunity to be a part of making decisions," Driscoll said.
Additionally, one portion of the meeting will be dedicated to student voice, an opportunity for students to ask questions, make suggestions or complaints to be sent to administration.
"Student voice is my favorite part, because you get to voice your opinion and hear others. Not a lot of schools allow that, so I really appreciate it," Student Body Historian Rachel Martinez said.