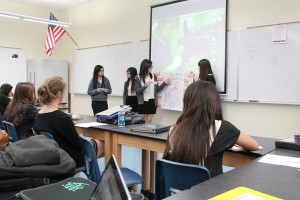 Dental program teacher Dr. Michael Georges, allowed the students to become teachers on Nov. 20 for a project involving the cardiovascular system.
"Students in Human Diseases were divided up into interactive study groups and assigned a topic relating to the cardiovascular system. They then researched their topic, and designed a lesson to teach to the rest of the class," Georges said.
Students taught the class five components about a disease they researched on the week before, including etiology, signs, symptoms, treatment, diagnosis, and prevalence. Pictures and bullet points were required to make it easier for the students to read and comprehend.
"I believe Georges graded fairly and our group had an opportunity to get a good grade on it that way," sophomore Helen Abraha said.
During the presentations, each group member asked the class a question for the students to answer and to make sure they understood.
"My favorite part of the project was when the groups asked their questions and we all had to answer them, it helped me with learning about the subject in a different way," sophomore Bianca Becerra said.