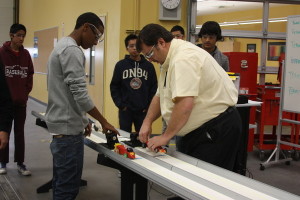 Mr. Randall Raha's freshmen Automotive Technology class began testing their own, personalized carbon dioxide (CO2) dragsters on Dec. 11 with their group members.
"It was exciting to bring a car to life just from a block of wood," freshman Noah Bleifus said.
CO2 dragsters are miniature racing cars that are powered by a carbon dioxide cartridge. The purpose of this project was to teach students about CO2 powered dragsters, vehicle aerodynamics, horsepower versus vehicle weight, and the vehicle shapes that work best.
"Coming up with a design for our car was a hard process, but it challenged our creativity and it was really fun," freshman Chris Dizon said.
The students have worked on the CO2 cars for about nine weeks.

Loading ...
"I'm excited to see who's going to win the race and to see if my car has improved from the changes I have made since the last test run," freshman Gianna Unfried said.