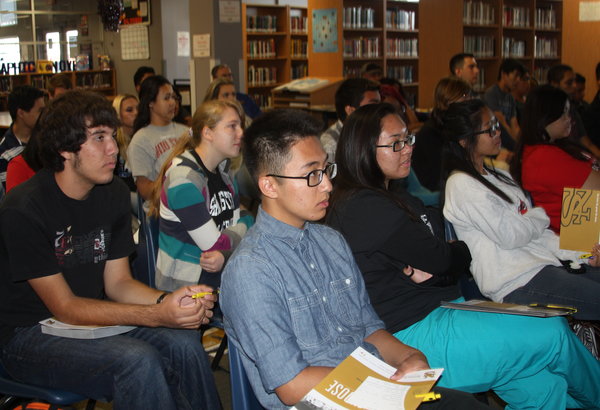 Seniors attended seminars that provided basic college information on Oct. 15 from 7 a.m. to 10:30 a.m.
"The most important thing about the senior seminar is college. Everything we do for senior seminar is all about post college success," counselor Mr. Brian Lindemuth said.
The seminars consisted of in-state schools offering information regarding College 101, scholarship and financial aid opportunities and presentations from University of Nevada, Las Vegas (UNLV), University of Nevada, Reno (UNR), The Art Institute of Las Vegas and Nevada State College (NSC).
"The college seminar was a good wake up call for me and what I want to do in the future. I learned that deadlines are really important and that I need to start applying to colleges as soon as possible," senior Stephanie Suresca said.
Seniors were assigned a group and then participated in four rotations; the first two either a 'College 101' presentation or financial aid presentation, then the third and fourth seminars were of their choosing.
"The financial aid presentation made me realize that the college process is not a joke, it's a process that needs to be taken seriously. This new information will help me out when I apply to colleges," senior Marilyn Villa said.
Offered sessions included seminars from the UNLV College of Hotel Administration, UNR college life from a graduate's perspective, The Art Institute of Las Vegas , UNLV College of Engineering, UNLV Division of Allied Health Sciences, Nevada State College, The Public Education Foundation (PEF): Scholarships and SWCTA Scholarship Counselors.
"I went to the UNLV Allied Health Services seminar and saw what they had to offer which helped me to know what I wanted to do, which is nuclear medicine," senior Joemar Ragasa said.