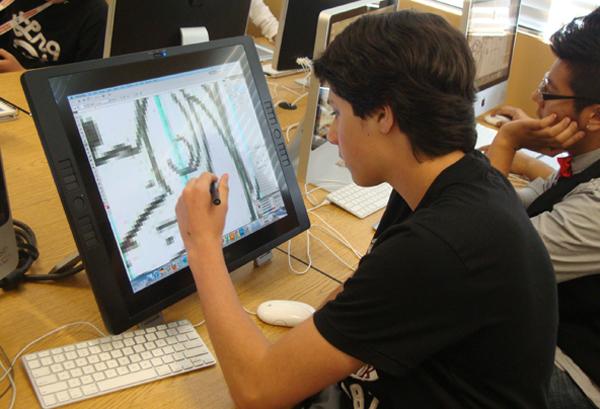 SkillsUSA members will be traveling to Reno, Nevada on April 23 to present an overview of their freshmen interior, web, and fashion design community service focused PBL for the statewide competition.
"I can't wait to go to Reno! I feel like we really changed their lives and I'm excited to tell the judges how it happened," freshman Jonathan Walton said.
The freshmen interior, web, and fashion design PBL focused on helping 25 homeless first graders at CC Ronnow Elementary School by designing individual t-shirts, bags, books, and shoes for the 25 students. Everything will be delivered to the school by April 15.
"I feel like we have a chance to make an impact on the childrens' lives due to their unfortunate situation," freshman Winifred Palay said.
Freshmen Winifred Palay and Jonathan Walton wrote a letter to Zappos Shoe Company asking for shoes to be donated to the first graders in need of shoes. In addition to obtaining shoes, each program area was asked to donate necessity items to fill the childrens' bags.
"I'm so glad I had the opportunity to do this project. I know I have bettered the lives of unfortunate kids," sophomore Troy Sirat said.
After the shoes are donated, Student Teams will be judged at the statewide competition in Reno, with the best getting a gold medal, silver for second and bronze for third.  The gold medal qualifies the group to attend the National SkillsUSA Championships in Kansas City at the end of June. The qualified members will then compete against the best community service project from each state.
"I hope they win, they have used the skills learned in class and applied it to a real world scenario to benefit the community.  That is what SkillsUSA is all about.  But you never know what other SkillsUSA chapters across the state have been doing.  We are keeping our fingers crossed for a win," SkillsUSA advisor Mrs. Maureen Clark said.