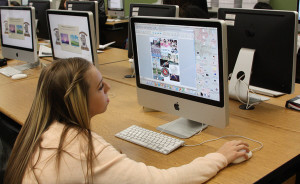 Freshmen Business Software Application students have individually duplicated a vision board regarding their goals for their future using Microsoft Word.
"The objective is to have students use Microsoft Word and make a vision board to acknowledge his/her own personal dreams and goals and to provide the student with a realistic outline of what he/she hopes to accomplish," Mrs. Sigrid Compton said.
The vision board showcased the students' short and long term goals, as well as people whom they admire. Students also added their favorite bands and colleges that they would like to attend.
"The vision board allows us to really think about our future  instead of talking about it we actually get to image it visually," Izeah Guiao said.

Loading ...
The lesson was for the students to be able to apply their knowledge of Microsoft Word. Students will be limited to a 8.5" x 11" format to fit the paper in which they are printing on.
"I think it is a good idea. I feel the vision board gives a better perspective of our goals for the future," Stirling Ahlbrandt said.