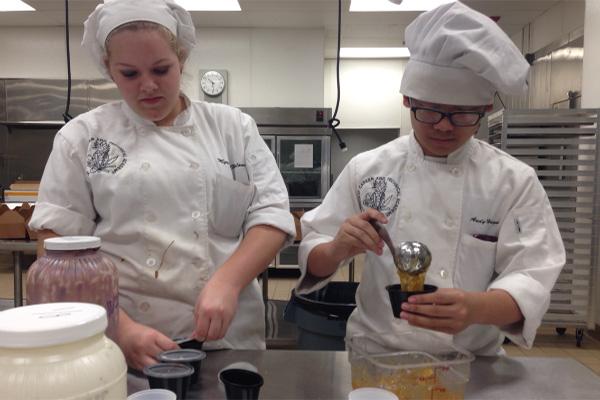 After its opening, the Coyote Cafe has upgraded materials for professional packaging and delivery, purchased new equipment for safer food production, and added new items to the growing menu that offer healthier options.
"The students are doing very well and working hard. We've added a lot of things to the menu and we get more and more orders every week!" Chef Sandra Mallut said.
The Coyote Cafe offers three different choice of meals every week. Last week, customers were offered the following meals: turkey panini, baked chicken fingers with special coyote crust and dipping sauce, and tuna salad spinach wrap at the price of $2.75. With the option of a combo, meals may come with an entree such as house, fruit, or caesar salad, as well as fruit, chips, cookies, or brownies at the price of $5. Also, sandwiches may be made without bread as lettuce wraps, and mango or berry smoothies are available.
"We make everything from scratch and use the freshest ingredients to make the orders," junior Andy Huynh said.
In addition, the Coyote Cafe has refurbished its food packaging, now providing customers with a plastic cutlery kit and convenient carry out box along with more package-friendly condiments. Furthermore, the staff of the cafe has upgraded its appliances and cooking tools, purchasing a new smoothie machine and a new thermal thermometer for safe cooking.
"I love preparing the food because it feels like a real world experience," junior Myranda Malone said.
Currently, the cafe serves only to faculty, but is in the process of receiving approval from the district to serve to students. The cafe is open two days a week, and orders are made online via email to Chef Sandra Mallut.
"I try to have order forms in at least 24 hours before the cafe is open," Mallut said.
Working for the Cafe grants students an internship credit required for graduation, and is also a senior capstone project led by senior hospitality students Katarina Bussmann, Mary-Ashley Cabana, and Lea Ligutom.
"The cafe funds our program and we get experience for working for it," junior Kay Eure said.