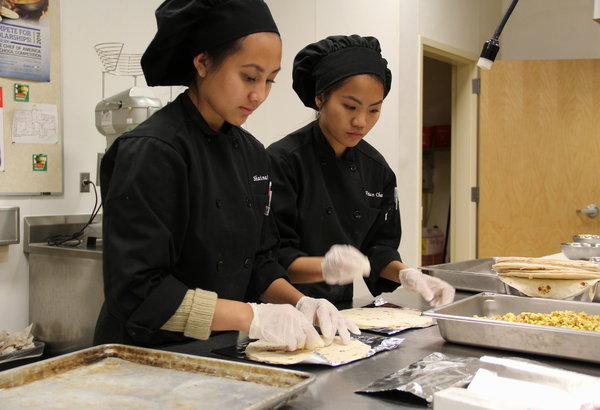 The Coyote Cafe opened to students and teachers yesterday and will be open Tuesdays through Thursdays for breakfast and lunch.
"Monday will be used as a day to prep all the food, and Friday will be used as a clean up day. We will start serving breakfast from 6:30 a.m. to 7a.m., and will be serving during both lunches. It will most likely be served in the cafeteria, but depending on what we are serving, it could also be in the ballroom," Culinary Teacher Chef Ruben Munoz said.
Munoz and the Culinary Arts students are in charge of running the cafe and serving the food.
"Everyone is involved in making the food either in front selling the items or in the back making the food. I usually have the sophomores and freshmen prep the food, and the juniors and seniors prepare it, but it's different for every event," Munoz said.
Students can purchase burritos for $2.50, water and coffee for $1.50 or a combo for $3.50, but the menu is subject to change from week to week.
"Next week we are planning on serving wraps, chips and water. The prices for items will range between $1 to $4, and will never exceed the price range students pay for food in the cafeteria," senior Nastasha Kalita said.
The money that is raised from the Coyote Cafe will benefit the Culinary Arts department, which will help pay for the food and supplies needed for the program.
"Coyote Cafe is basically a fundraiser for the Culinary program. Many times we're not able to use all the equipment that we have due to budget issues. For example, we have all been wanting to use the ice cream machine that we have in class, but since we don't have the time and money, we are not able to," senior Polina Frolova said.
Previously, Coyote Cafe was open to teachers only, but Chef Munoz opened it to the student body due to numerous requests.
"The administration fully supported the idea of opening the cafe just as long as we followed the nutritional value guidelines that are provided by the Clark County School District. They understood that it would not only benefit the student body, but it will also benefit the culinary students, since it gives them a real world working basis," Munoz said.