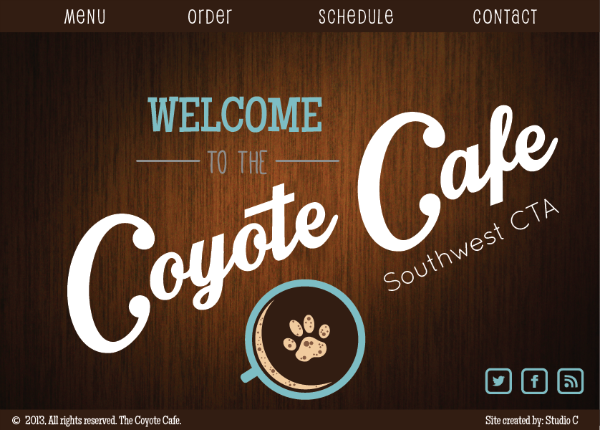 After three years of complications, false starts, and confusion, Coyote Cafe will be opening after the start of the new year.
Coyote Cafe is an internship/capstone project led by senior hospitality students, Katarina Bussmann, Mary-Ashley Cabana, and Lea Ligutom.
"Chef Asch, our former teacher, was the one who offered Coyote Cafe as an internship to last year's senior culinary students. They were able to work with Chef Asch on a different level within the culinary kitchen and build up on their skills, but never actually succeeded in making a plan to launch the site," Bussmann said.
The proposal plan was held in the ballroom last week in front of administration and then again in Web Design instructor Mrs. Cindi Chang's room. It will be presented again this week to staff members, and will then become open to the students once all finishing touches are made.
"I think when it is open to students they most likely will enjoy the opportunity to be able to buy lunch online. Not a lot of schools have a separate cafe or area facility where they can get lunch somewhere besides the cafeteria," Cabana said.
Staff members and students will be allowed to order their food online for a set price and choose from a variety of menu items, such as sandwiches, soups, salads, and drinks. Web design seniors will be building and launching the actual website. The website will feature a menu section and an order section. Teachers and students will be able to choose an item from the menu, choose which day to order for, and then pick it up in the ballroom. However, payments must be made a week in advance online prior to delivery day in order for product to be ordered.
"Although Coyote Cafe was not successful for the past three years because no seniors wanted to take on the opportunity in full, we plan to expand the cafe to a bigger and better image this year," senior Ligutom said.
The general plan for Coyote Cafe when it becomes open to students is that they must eat at their required lunch time. The goal is to maintain reasonable prices and to ensure that all meals conform to the school nutrition guidelines.
"Coyote Cafe gives us the experience of the process of opening up our own business. We've gone through proposing our idea and setting our schedules, from picking out a menu and deciding what we should sell. We couldn't be any more happier to be able to serve people within the school and make it as successful as possible," Cabana said.
However, plans regarding how many culinary students will be working on a daily basis, the number of orders that can be made daily, and how many different meals will be offered for sale each day cannot be decided until a new instructor has been hired.
"Because we are a team, I don't think it will be difficult to manage the cafe and still be apart of other school clubs or activities as long as we manage to work together. I plan on opening my own cafe some day, so I'm really excited to start Coyote Cafe," Ligutom said.