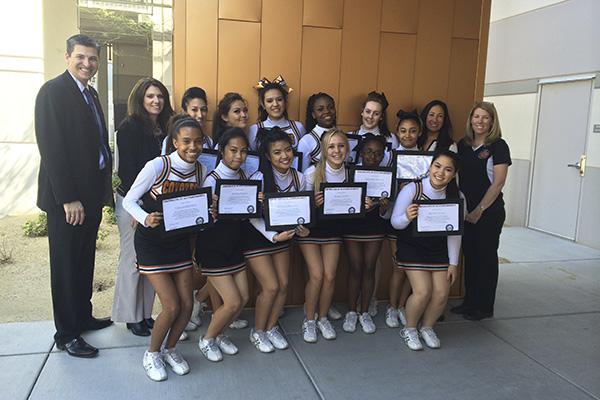 The Coyote Cheerleaders and their coaches were awarded certificates signed by Congressman James W. Healy which recognized their season.
"You guys are champions. You've only been a team for two years and you guys got three first place trophies back to back to back. That says a lot about your team as a whole. Working together and applying teamwork will help this team stay successful. You also should thank your awesome coaches for pushing you guys to success, " Healy said.
Healy gave an inspirational speech to the team as well about what it takes to be champions. He handed each cheerleader their certificate and thanked them for their dedication and hard work.
"During the season, I'm glad I've gotten closer with all the girls on the team. Having that team bond is really great. Competition season was such an amazing experience for me.I'm looking forward to another successful season with the girls and the coaches," freshman Xena Bolick said.
The Coyote Cheer Club participated in three different competitions during their season. They competed against other high schools such as Mojave, Durango and East Career and Technical Academy, winning first place at each.
"I'm extremely anxious for the next season. I can't wait for tryouts and to start stunting again.We have a lot of new things planned for next year. We would definitely love for guys or girls with any tumbling experience to try out for next season," sophomore Nastassia Bullock said.
Tryouts for the 2014-2015 season take place at the end of May. Anyone interested in joining the team can contact Ms. Cindi Chang, Mrs. Sheila Petrosky or any cheerleader if they have any questions about the tryout process.
"Cheer is so much fun and you actually gain a lot within a season. You not only have fun, you also learn how to work with different personalities to be successful," junior Madison Cervantes said.