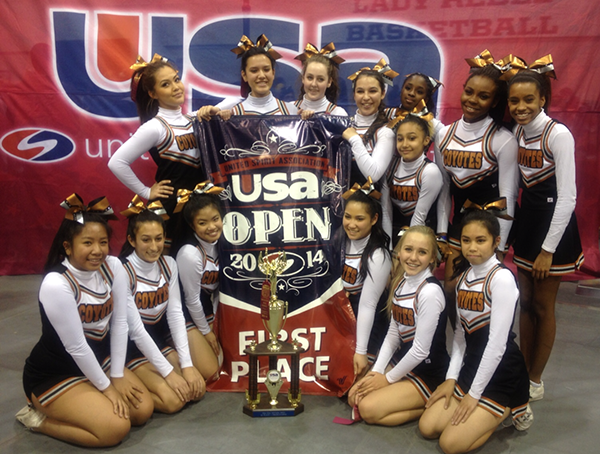 After placing first in both the 2014 National Cheerleaders Association (NCA) cheer competition at Coronado High School on Feb. 1 and at the United Spirit Association (USA) cheer competition at University of Nevada Las Vegas (UNLV) on Feb. 8, the Coyote Cheer Club  are now preparing for their final competition on Feb. 15 at Green Valley High School. .
"I love taking the team to competitions because they're fun and they get really into the zone. They want to do well for the school," Coach Sheilah Petrosky said.
The team will not be participating in any more competitive events, due to their purchase of tumbling mats and competition fees. For the time being, the Coyote Cheer Club will continue selling Qdoba tacos on Tues. and Thurs. to raise funds.
"Hopefully, if we raise more money from fundraising, we'll be able to compete in more competitions, get varsity jackets, and maybe even hire a tumbling coach," Coach Cindi Chang said.
The competition team consists of 15 cheerleaders, and members perform stunts, tumbling, and cheers.
"The competition was a good experience, and it was fun to see other teams compete," freshman Xena Bolick said.
The team holds practice on Tues. and Thurs., and tryouts for the 2014-2015 school year will be held from May 19-22.
"We need more members. Next year, we'll have seniors on our team so we'll have a varsity squad. I would love to have boys join the team so we can do more stunts," Chang said.