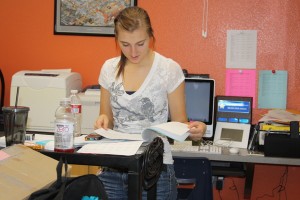 The first Coyote Congress of the 2012-2013 school year will be held on Oct. 5 from 2 p.m. to 3 p.m. in the cafeteria. Coyote Congress is open to every student and teacher at SWCTA and will occur on the first Friday of each month until May.
At the first Coyote Congress, students will be discussing spirit days for the week of homecoming. Students are also able to present issues and solutions to problems regarding the school.
"When a student shows up to Coyote Congress, they are able to become involved in multiple school functions and learn more about what is going on and possibly have their voice be heard about ways to improve our school," junior Merycon Baptista said.
Each program area representative will inform others about what is happening throughout the year in their program area and public-speaking session concludes the meeting.
"Coyote Congress is a way for other students to know what is going on with the other program areas. It's also an opportunity to speak up about a problem a student has concerning the school," junior Charlotte Pamintuan said.

Loading ...
Class meetings will follow Coyote Congress from 3 p.m. to 4 p.m. The president of each class decides the agenda as well as event planning for the rest of the school year. Again, questions are answered and school improvement ideas are recorded.
"Each and every Coyote Congress will give the student body an opportunity to interact with others, and learn new things about specific program areas, as well as gain information on upcoming events this school year," junior Joanna Joseph said.