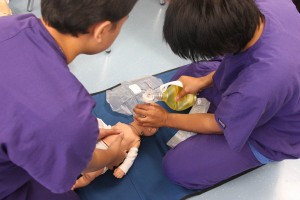 The physical performance tests on Cardiopulmonary Resuscitation (CPR) and Basic Life Support (BLS) is taking place in Mrs. Vicki Smith's Junior Respiratory Therapy class beginning today.
"Respiratory juniors are completing the American Heart BLS CPR course for healthcare providers. It is a 2-year certification that allows students to work in the healthcare industry. I believe my students will do well on the tests, they have practiced so much," Smith said.
Smith and School Nurse Mrs. Debra Minagil, are testing Respiratory Therapy students on the accuracy of chest compressions according to time and situation.
Students must also know the different techniques to use on an adult, child, or infant.
"I am excited for the testing! I can't wait to apply what I learned and see if I really know how to perform CPR," junior Anthony Paculan said.

Loading ...
In order to test all 36 students, testing will be 10 class periods long. Two students will be partnered together and assessed equally the same grade for physically performing CPR.
"CPR/BLS testing is the final step where every students are tested in their knowledge and skills. This way, students are able to get a grade for their knowledge and skills in CPR/BLS. If we pass both the tests, we each receive a card to acknowledge our learning. In my opinion, learning CPR/BLS will prepare us for real life situations," junior Shirley Siu said.