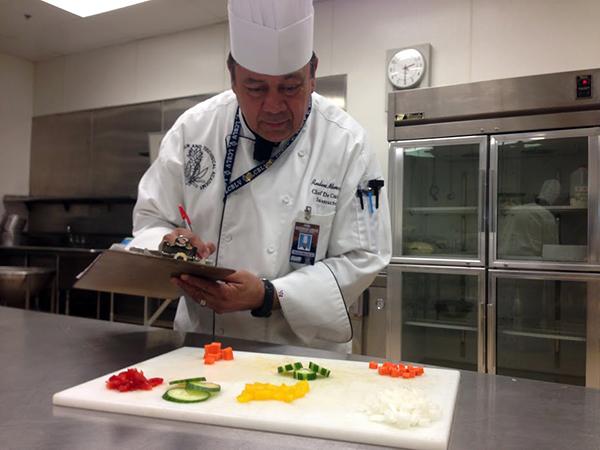 Sophomore and freshmen culinary students brushed up on their knife skills with a hands on chopping lesson to test their abilities last week. To practice their knife skills, the students were presented with a wide variety of mediums to practice their cuts.
"Right now I have them practicing different kinds of knife skills. That's one of the areas the students need to practice on to work in the industry," Culinary Arts instructor Chef Ruben Munoz said.
With each new medium introduced, the culinary students practiced and displayed 11 different types of cuts, each with a different produce item such as carrots, potatoes and onions.
"I went ahead and ordered different products. We started off with squash which is the softest vegetable, having the kids understand the importance of how to handle the knife, and also having the opportunity to work with something that is not hard to cut. That way they could practice on taking and peeling the skin off," Munoz said.
Although the lesson was just to practice for future cooking lessons, the students were also graded on performance and accuracy based on the concepts they learned.
"We're learning the basic cuts, and everyone was starting to tear up because of the raw onion smell,"  Culinary Arts sophomore Shaina Casio said.
Following the knife skills lesson, the students will start a new cooking assignment using the types of cuts and chops they learned with this workshop.
"Everything is based on a 5-point scale. I have a chart that we looked at as we talked about the knife skills and they learned the cuts and sizes. From there, we take that example and compare it to the cuts they have presented to me," Munoz said.