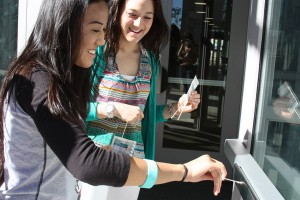 On Oct. 15, juniors in Mrs. Vicki Smith's Respiratory Therapy I class took culture swabs on a variety of surfaces around campus. The swabs ranged from toilets in the bathrooms to keyboards in teachers' classrooms.
"I believe that this experiment was necessary for us to be able to recognize the different bacteria located on multiple objects around school that we may touch throughout the day. This experiment taught me that the more sanitary I am, the less prone to infection I will be," junior Anthony Paculan said.
Using the substance, Agar, in sterilized plastic containers, students were able to rub their swab sample on the substance and test for the different bacteria.
"The goal is for students to realize that bacteria lurks everywhere, even on the simplest of objects," Smith said.

Loading ...
Students will wait two days until the bacteria grows and is visible.
"This culture swabbing experience was interesting. We were able to learn how to properly swab objects and test them to see what had the worst bacteria buildup around school," junior Jia Liang said.