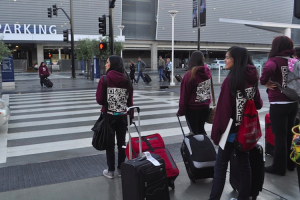 From April 13 to April 15, 2012, six Southwest Career and Technical Academy Key Club officers attended the 66th Annual District Convention. The officers flew to Santa Clara, California in order to participate and represent their school.
"For the most part, the district Convention was a pretty average experience. It truly felt like it was a blown up version of the regional training conference. There were workshops to attend, networking to be done, and so much to do," President Jon Dulay said.
At the convention, the participants took part in workshops focused on leadership, fundraising, how to increase membership etc. They also elected their new 2012-2013 executive board to represent the California, Nevada, and Hawaii Key Club district (28-West).
"DCON is one of the key club events I look forward to as an officer. I love meeting fellow key clubbers from out of state who share my passion for service," Immediate Past President Kristelle Dealca said.
The next Key Club event will be a division council meeting, or DCM, and end of the year banquet at Faith Lutheran High School on April 26.