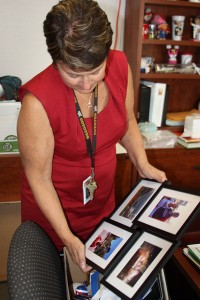 Ms. Lynn McCann, dean of students at SWCTA, received notice of her promotion and new position at Arbor View High School on Friday, Sept. 28th, 2012. McCann's final day at Southwest CTA was on Oct. 2, 2012.
"I have been promoted from Dean of Students to Assistant Principal of Curriculum at Arbor View High School," McCann said.
McCann will be supervising the various academic and extracurricular departments at the school and will plan and coordinate student testing. At Southwest CTA, McCann was in charge of the school's curriculum and banking where she was always involved with the students and staff.
"SWCTA is a unique school and the memories and experiences will be apart of me forever. If I had to name one thing I will miss the most, it would probably be the smiling faces of the students that I saw everyday as they walked around campus," McCann said.
SWCTA will be losing a very special member of its staff, but wishes McCann the best of luck during the next chapter of her life.
"I will miss each and everyone of you. Thank you for making the past 3 years so special. Go Coyotes! Watch out for the Panda!" McCann said.