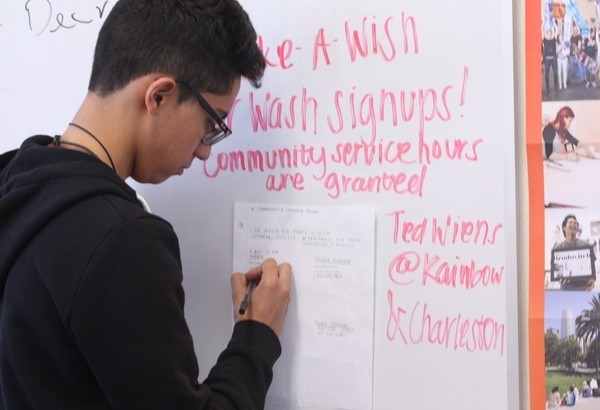 Distribution Education Clubs of America (DECA) will be hosting a car wash on Oct. 11 from 9 a.m. to 3 p.m. at Ted Wiens Complete Auto Services to attempt reaching a $5000 goal for the Make-a-Wish Foundation.
"I feel like this car wash will be a success because people need their cars washed and all profits will go to a charity," junior Ruth Belay said.
The car wash is in conjunction with a DECA project for the State Career Development Conference (SCDC). Project coordinators are juniors Isabel Argumaniz, Belay and Brittnie Truax. They are competing in the Public Relations Project category, which is a written event that evaluates how well a small group of students can plan, organize and implement a promotional campaign.
"For our project, we are promoting the Make A Wish Foundation and as a part of our promotion, we want to have events monthly until ICDC [International Career Development Conference] to raise awareness and money for the charity. Our goal is $5000, as that is the cost of a typical wish," Belay said.
Set-up will be from 8 a.m. to 9.am. They will need six to eight people washing cars, with other volunteers holding signs and selling snacks throughout the day.
"For the snacks, we plan on selling chips just to gain more profit for the 'Make-A-Wish Foundation.' As for the signs, we are hoping to attract customers driving by and raise awareness for the charity," Belay said.
Students who are interested in volunteering for the event must sign up in Mr. Perry Annett's room (B210) or Chef Linda Burn's room (B113). All volunteers will receive community service hours.
"I hope the car wash goes well. We really need as much volunteers and help as possible," Annett said.