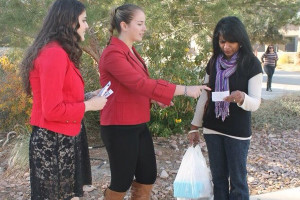 DECA members, Joanna and Michael Joseph and Sahar Kanfi, campaigned for Miss Lebanan, Rina Chibany at UNLV for their DECA State competition project on marketing on Dec. 10.
"Campaigning was a success and overall it was a lot of fun. We were surprised by the number of people that showed up to support Miss Lebanon," Kanfi said.
Kanfi and Joseph will be watching Miss Lebanon participate in The Miss Universe Preliminary Competition streaming live on on Dec. 13 at 7 p.m. If she passes to the next round, they will determine how well they utilized their marketing skills to gain more votes for Miss Lebanon.
"Good progress is being made by the tactics we are using to campaign. We hope that Miss Lebanon will be successful in this competition, allowing her to become the new Miss Universe," Joseph said.
The Miss Universe Competition will be held at the Planet Hollywood Hotel and Casino on Dec. 19 at 8 p.m on NBC. After a winner is crowned, Kanfi and Joseph will reflect on their marketing campaign to build their DECA State competition project.
"In my eyes Mrs. Lebanon is the best, because she has qualities that make her stand out in the most unique ways giving her a huge change in winning in the Mrs. Universe elections," Joseph said.