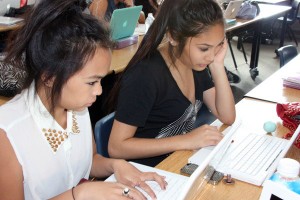 Mr. Michael Moore's English 11 Honors juniors are working on their first Project Based Learning assignment of the 2012-2013 school year in which the students will be persuading and informing all of SWCTA about the current presidential campaign issues.
"I think this PBL is a really good topic. Normally, other classes wouldn't focus on learning about political campaign problems so its nice to have a class that helps us become informed on real issues in America," Fashion Design junior Terri Dang said.
The students will create their own declaration focusing on their dominant campaign issues, such as Same-Sex Marriage, Abortion, Medicare, etc. The students will follow the structure of the Declaration of Independence.
"The idea of remaking the Declaration of Independence is pretty neat because it gives us the opportunity to declare what our dominant campaign issue is with a formal format. Its a very straight-forward and on point way to state what our viewpoints are for the issue," Web Design junior Quincy Walker said.

Loading ...
When the projects are finished, the students will present their public service announcement, created with Garage Band to deliver their presentation. The presentations are meant to inform students and teachers on what America's dominant campaign issues are when considering and deciding who should be president.
"During the PBL, I expect students to stay on task, learn how to work professionally in groups, and become informed themselves and others on the different facts of dominant campaign issues. Since the presidential campaigns are going on right now, I was assigned to have the students do a project based on the campaigns. Its just a good way to have the students informed and aware of what is going on in the presidential campaign," Moore said.