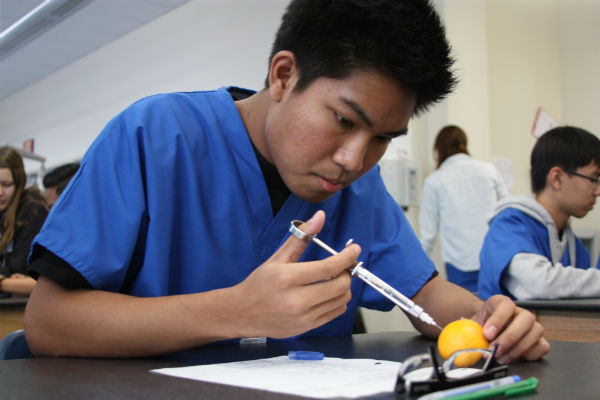 In order to practice loading and properly inserting needles, juniors and seniors in Dr. Michael George's dental class injected unpeeled oranges with anesthetic.
"My first patient to inject was a lovely orange, but better an orange than an actual patient," senior Nghi Duong said.
Georges decided to use oranges instead of another fruit, because the peel of an orange is directly related to the skin. In the dental field, students may be required to inject patients with an anesthetic during treatments such as root canals.
"I'm so glad that I was able to learn how to use a syringe in this lab because it is going to help me during my internship with actual patients," senior Ayanna Bonilla said.
First, students gathered materials such as the anesthetic injection fluid, 27 long milliliter syringe, and the dental cartridge syringe. Afterwards, they were to place the anesthetic injection fluid into a syringe and tap it slightly to make sure the fluid was placed correctly. Finally, they were ready to inject the anesthetic into the designated area.
"Only at southwest would we be able trust our students with needles. I decided to do this lab with my students to teach them how to properly inject anesthetic into an orange," Georges said.