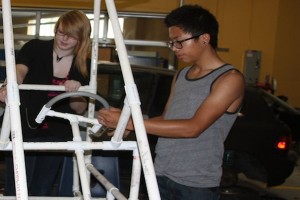 Design students at Southwest CTA are building a human-powered car that will compete in the "Human Powered Car Vehicle Contest" 5 kilometer race.
"I'm really excited to be doing this because it's fun to create a human-powered car from scratch and we have a great team that will help us win this race," sophomore team leader Cassie D. said.
The human-powered car is a way for the students to learn about planning and measuring accurately. The car will be powered by the driver pedaling the car like a bike. In each cart there will be two members, one in the driver seat and a secondary passenger.  The remaining team members will be designated drivers and pit crew members.
"I think that the race will be really cool to watch because it's like watching our hard work come together and be racing," said sophomore Cheyenne Tolbert.
To assemble the vehicle, students cut PVC pipe and dry fit (putting the pieces together without glue) to see if the parts were cut properly. After they fixed the pieces and put it together, they took it apart and glued it together
"Its good to see the team make mistakes because it shows them that they need to follow directions and it also gives them the chance to learn how to fix them", said supervisor Mr. Danny McElroy.
Even though they dry fitted the pieces, they still are encountering problems. But, McElroy is assisting to fix the problems made by the students and its making the assembly of the vehicle quicker. Once the product is all put together, it will be painted with the school colors of copper, black, and silver.
The race is a 5 K and will take Northwest Career and Technical Academy on Saturday May 19th.