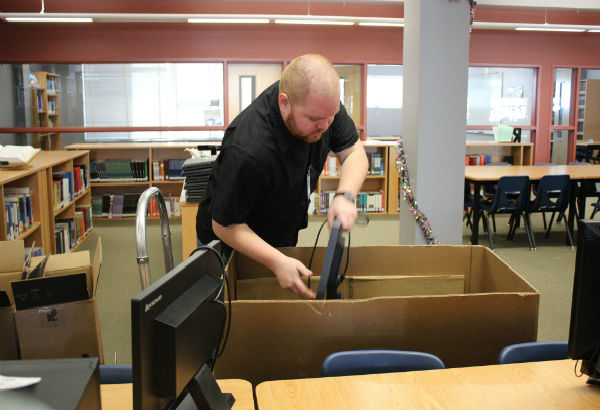 Due to the district refresh, which occurs at each school site every five years, the technology used by the teachers in each classroom and library computer lab were replaced with Apple Mac minis and Lenovo computer monitor screens.
"The new standard mac computer for the Clark County School District (CCSD) is the Mac mini which doesn't have it's own built in screens like the iMacs do and Lenovo is our supplier for the standard monitors and PC's," Video Game Design Teacher Terry Lively said.
According to the Educational Computer Strategist (ECS) Mrs. Stacy LeFevre, every high school is allocated $240,146 and the school is responsible for dividing the money based on their needs.
"Everything costs a different amount of money. Laptops are a little bit more and Macs cost more than PC's and we decide based on that number," LeFevre said.
The computers used for the Web, Video Game and Graphic Design courses were not replaced, partially due to the Mac mini's inability to support the software necessary for the course instruction.
"Not only is the Mac mini not powerful enough, the labs also need to be refurbished with CTE money [or school budge funds] instead of district refresh money," Lively said.
All computers were replaced by CCSD Computer Technicians, including the 32 Dell desktops in the library computer lab. Computer accessories such as the Lenovo computer monitor screen, mouse and keypad are brand-new. 
"Now that I have 32 in the lab and 29 on the floor, I can provide a computer for each student in a larger class," Librarian Veronica Whiton said.
No computers in the library were replaced; however, additional computers were added. 
"I hope the new computers will be a lot faster than what the Dells were," Whiton said.
In addition, the library will be closed until further notice.
"When I went into the library during lunch, I was confused as to why it was closed. The good news is that we're getting new computers which is actually pretty useful. I just hope they finish up soon so I can visit soon," junior Gillian Galinato said.