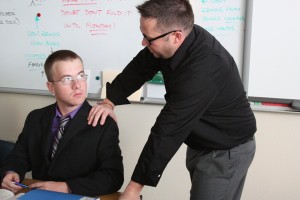 American History teacher, Mr. Zacariah Douglas, announced that he will be resigning on Dec. 20 to return to Ohio.
"The relationship is bittersweet, I am excited to leave because I get to spend the rest of my life near my family, but I love teaching here at Southwest. There is no better job than the job I have now," Douglas said.
He has been teaching for the past 8 years in Las Vegas; previously at Sedway Middle School and Hyde Park Middle School.
"He is an amazing teacher and I'm sad to see him go. I hope he enjoys Ohio," junior Kinsey Wagner said.
Douglas plans on continuing his teaching career in Ohio. He has had multiple interviews to find new employment.
"There is only one Mr. Douglas, he is irreplaceable. December 20th will be an upsetting day for everyone," Principal Mrs. Felicia Nemcek said.
For the past two years, Douglas has coached the professional academy boys and girls flag football teams for the homecoming game.

Loading ...
"No one can replace Mr. Douglas, he will be greatly missed," junior Joshua Ruesch said.