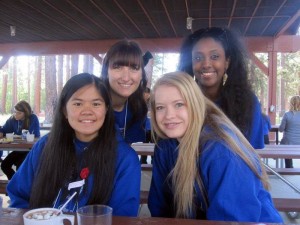 Seniors Kristelle Dealca, Bserat Ghebremicael, Lacey Long, and Stephanie Stewart attended Nevada Girls State this past July near Lake Tahoe to learn more about the political world and experience the electoral process first hand.
"I loved Girls State. It was so amazing. I gained a greater appreciation for politics and government. I learned a lot and created many new lasting friendships," Stewart said.
The students learned about Nevada's legislation, everything from how to create laws to the process involving passing them, by participating in elections and joining the Nationalist Party or Federalist Party.
"I believe that attending Girls State or Boys State provides an opportunity for our students to meet students from across the state with similar interests, increases civic engagement, and makes politics more interesting and relevant. I went to Girls State 17 years ago in New Mexico and still believe in the benefits of the Girls State program," Student Council Adviser Mrs. Miriya Julian said.
Dealca, Ghebremicael, Long, and Stewart were required to run for "office" in the city, county, and state elections against other girls. The offices of city councilwoman, county clerk, county commissioner, and senator were won by these girls, respectively, after a long election and campaigning process.

Loading ...
"Girls State opened my eyes to a side of society that I never really paid attention to. I realized that politics are extremely important and not many young adults know that they can impact what's going on in their city, state or even the nation if they only became involved or aware of politics," Dealca said.
The girls also heard from guest speakers, who talked about their lives in politics and also gave encouragement through telling stories or life lessons. Additionally, the camp leaders took everyone down to Lake Tahoe to see one of the top 10 fireworks show in the United States on the 4th of July. By the end of the camp, two participants from other Nevada schools were nominated by the others to represent Nevada in July as senators in Girls Nation.