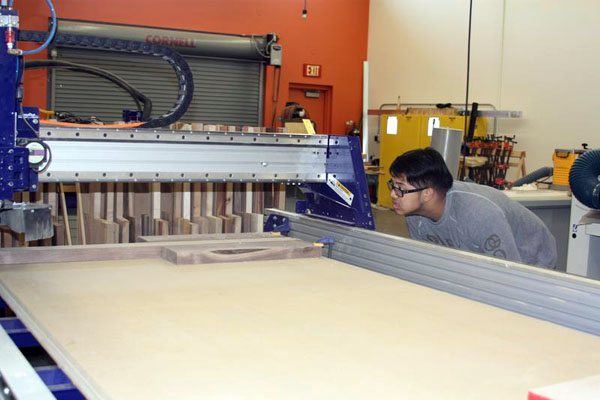 The junior Entertainment Engineering class recently tested the first body cut on a guitar on using Ira Nocom's design. The design was drawn on Solidworks, a 3-D model program, so the students can plan their guitars would look like and before cutting them this week.
"It feels great to be the first one cutting a guitar. I have worked really hard on this, so I hope it will come out okay," junior Ira Nocom said.
With the test cut completed, preparations and conditions are being met so that the first official cut will be made, though there has been a long wait due to testing and planning.
"After we cut Ira's guitar, we will be able to have the ball rolling. We will be cutting more than one guitar at a time so I think everyone will be finished before the school year comes to a close," said junior Japeth Romero.
Afterwards, students will have to sand, paint, and eventually place the guitar parts into their rightful spots on the guitar. These parts have been carefully noted and have been assigned slots in the guitar where they will be placed.
"It seems like a lot of work, but I think we will be able to finish. I have no doubt that we can finish every student's guitar even though there are still a lot of steps ahead," said junior Maria Lisondra.
Afterwards, the students can do as they please with their final product whether it be selling, playing, or putting it on display for others to see.
"If we mess up even one part of the cutting, painting, and placing of the parts, someone will be unhappy. In order to ensure that this does not happen, we all have to work together so that we can make sure we know what we are doing. With that being said, I look forward to being able to play my guitar at home," said junior Dominic Perett.