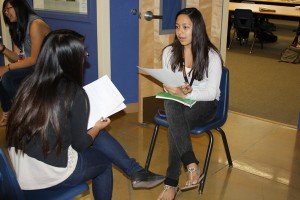 English PBL presentations took place on Oct. 2 and 3 in all grade levels.
"Since this was my first PBL ever, I was nervous but excited to present. I believe I did very well overall," freshman Sophia Zaman said.
Each PBL focused on different topics like spoken word poetry, propaganda techniques used in the news, political issues, and stress.
"I was prepared for my PBL presentation so my group and I did very well. This PBL gave me the chance to become familiar with the different propaganda techniques in the news," sophomore Xavier Bauer said.
Each English PBL provided students with a basis of what is going on in the world outside of school. This project related to the theme of the school year, "Be the Change," by students recognizing that they are the ones who can make a difference in this world.

Loading ...
"My PBL presentation was amazing. Our overall visual product was phenomenal and I was able to learn about the issues outside of school that adults face in the real world and how the youth are the ones who can really make a difference" junior Anthony Paculan said.