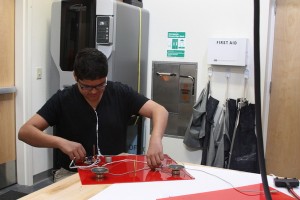 Sophomore students in Mr. Angelo Pappano's Entertainment Engineering class are required to write magazine articles based on their summer project, where students had to create simple devices and objects.
"The purpose of making their own articles is help them get used to Google Docs, and help them understand how to write a proper article. Once the article is perfect, it will be used as a reference for future use," Pappano said.
If the article is written correctly, it has a chance to be published in an engineering magazine. Pappano is not sure how many students are going to submit an article, but he plans to help the students continually revise their article until it becomes "A" material. The article will be graded on grammar, format, and structure.
"I would totally do this project again because it is amazing to have people look and appreciate something you know you built by yourself with your own two hands," sophomore Jack Hale said.

Loading ...
This project has allowed the students to create various, and interesting gizmos that have broadened their knowledge that would eventually lead to creating electric guitars.
"As I began to write the article I focused on how I came up with the design and what steps I took to make the case. It took about an hour to write a full page and I don't think it would take any longer for other upcoming articles," Hale said.