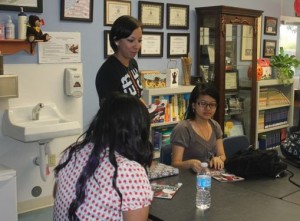 On Oct. 5, the Evolvement program coordinator, Ms. Nikki Antos, visited junior Respiratory Therapy students in Mrs. Vicki Smith's class for their first training session regarding spreading awareness of tobacco products.
"The main goal of Evolvement is to inform teens of the negative impacts of tobacco products, not just on those who use it, but on the world as well. Evolvement also provides teens with the tools they need to become leaders and activists in their communities," Antos said.
Evolvement members are high school students who want to make a difference in their community and in the world. Members spread facts about tobacco to their friends, families, and the community, motivating everyone to take action and be the change. This is possible by spreading awareness and getting public support for healthier communities.
"It's an awesome program that allows students to learn about tobacco legislation, facts and info about tobacco products, and helps them be the change they want to see in the world," Smith said.

Loading ...
Students involved in this program are able to earn points for the work they do such as trainings, blogs, media, and projects. Points are used to redeem rewards in the Evolvement Point Store, including computers, movie tickets, gear, gift certificates, and scholarships.
"This program was very educational and interesting because we learned about the impact of tobacco products on the world. We want to change the impact in which tobacco doesn't exist anymore or at least less and everyone will know the harmful effects it has on the environment, animals, and the economy," junior Kinsey Wagner said.