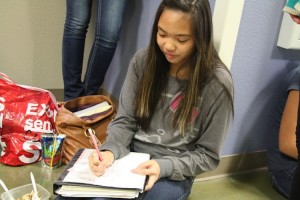 Junior Fashion Design students at Southwest CTA are designing and creating Disney-themed outfits. The students have the freedom to create any type of outfits.
"I like this project because it is different, creative, and fun," Jennifer Quintanilla, junior, said.
Fashion Designer teacher, Mrs. Cassandra Pawling, assigned a random Disney character(s) to each student in her junior class. The students are expected to create an outfit featuring their Disney character(s).
"I have Tweedledee and Tweedledum from Alice and Wonderland. I am making shorts with suspenders and a simple T-shirt similar to what Tweedledee and Tweedledum wear," Rachel Nepomuceno, junior, said.
The project will conclude showcasing of the fashion students' progress and skills at Coyote's U-Night, on May 18th, by holding a fashion show featuring their finished products.