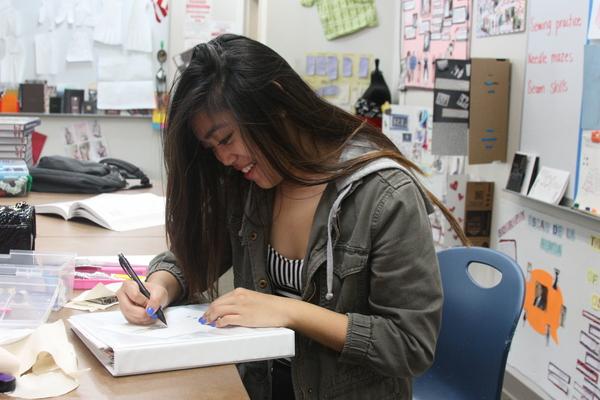 At the beginning of March, 10th grade fashion design students will be starting to design and make personalized skirts.
"I am very excited for the pencil skirt project.  I always look forward to trying new things, and ways to improve my sewing skills," sophomore Mercedes Flores said.
The purpose of this project is to learn how to customize a pattern, use notions, and tools to complete their garment. The students will be required to purchase the fabric, cut the patterns out, and stitch the garments together.
"My favorite part about making any garment is shopping for fabric, imagining all of the work I'm about to put into it and watching it transform into something completely new," sophomore Taylor York said.
For this project, Mrs. Sheilah Petrosky has provided the students with a recommended list of materials, but it is ultimately up to the students to choose the fabric that they want to work with. Some of the possible options are denim, leather, cotton and linen.
"I will be using cotton, because it is very easy to work with," sophomore Anne Jenica Quicho said.
In order to prepare for this upcoming project, students are now learning the necessary sewing techniques such as grading, easing, and zippers.
"Darts is the hardest technique for me to learn for the skirts project because you have to do it at a certain point with a certain length and width for it to fit right or else it will be too loose or too small and fitted," sophomore Brianna Cole said.

Loading ...
The overall expectations of the students is to complete a wearable pencil skirt within 2-3 weeks. At the end of the project, the students will have the freedom to choose whether to wear the skirt or donate it as a gift.
"This is a good project for the students because they get to utilize many skills on one project," Petrosky said.