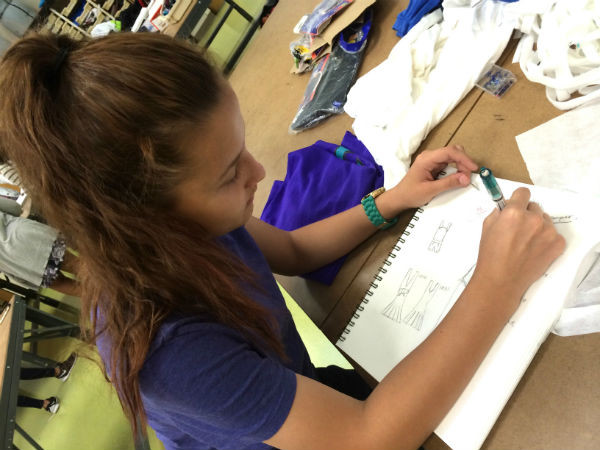 Fashion I students are finishing off the year with taking old t-shirts and transforming them into a new and improved item. The students have their first opportunity to sketch out a design and make it come to life.
"I want my students to understand they can make something out of nothing and there are always materials around,"  Fashion Design instructor Ms. Shannon Sheldon said.
This project has one guideline: it must be made out of t-shirts, old or new, big or small, as long as cotton is the main fabric involved. Although they weren't able to choose the exact shirts they wanted to make, students were given some freedom for this project by choosing the fabric they wanted to make their shirts with.
"I'm extremely excited about this project for multiple reasons. I'm mostly excited because the fabric for my shirt is Disney princesses, so I can't wait to see how it comes out," sophomore Morgan Calder said.
The sketches that students have drawn range from dresses, rompers, skirts and even pants. This is a new challenge for the freshman students, for they have no pattern or directions and it is the first time they have put their ideas on paper.
"Now that they have experience with the sewing machines and more confidence putting things together, hopefully they can express their ideas in a better way," Sheldon said.
The reason for the challenge is to help the environment and show how the community can use the resources provided for them.
"I am excited to be able to make something that expresses my personal style and something I could potentially wear if it turns out expected," freshman Sana Fahim said.