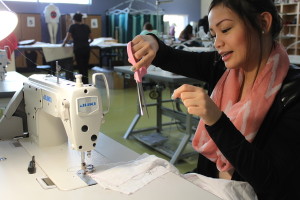 Juniors in the fashion program were given the opportunity to make brand new, but separate pant legs and shirt sleeves on Jan. 9.
"Using past experiences as a sophomore, making these items will be easier. I believe the most difficult part is staying on task," junior Mikaly Meily said.
Students used pattern designs and cloth called muslin to practice their cutting and sewing skills before moving onto fabrics that are more challenging to work with.
"Practicing on this [muslin] is such a good idea. I would hate to buy fabric that costs $7 a foot and then mess up on the pants and sleeves, then end up spending more money on fabric," junior Starley Payabyab said.
In order to create the pant legs and shirt sleeves, students had to find the right pattern piece, pin the pattern piece to the muslin, cut along the pattern piece outline, and then sew them together.
"The finished products came out great. With the things Ms. Pawling taught us, I was able to get an A on my sleeves and pant legs." junior Samantha Matias said.