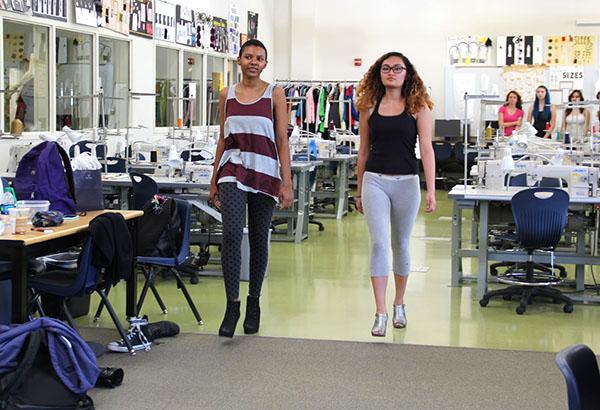 Seniors in the fashion program held their first 'SWCTA's Next Top Model' search on Feb. 20 in room E106 from 1:30 p.m. to 2:30 p.m. for their senior capstone project.
"We wanted to get more involvement with the student body, instead of us asking particular students to be part of the fashion show. There's kids that we've never even see, so we wouldn't know to even ask them," Fashion Design program instructor Mrs. Sheilah Petrosky said.
To qualify for a model position, students were required to be 5'6 in height and be a size ranging from two to six.
"I went to the fashion show last year and was really inspired to be a model. It looked like a lot of fun, so I decided to audition for it my senior year," senior Maggie Chang said.
Those who audition were required to bring leggings, a tank top, and two to three inch heels.
"Someone suggested that I should be a model and I met all the requirements, so I thought "why not?" It was definitely a fun and different experience," junior Daphne Singkum said.
In order to qualify, models were expected to walk a runway three times with three different scenarios
"My dream job is being the best actor in the world, so being a part of this will help me in my goals," senior Brian Swearingen said.
In addition, the names of the models who were chosen to participate in the fashion show will be posted in front of room E106 on Feb. 23.
"We choose models by the way they walk, for example if they were able to walk in heels. We also watched for a lot of attitude because that's what we need in our fashion show because 2015 as a class has a lot of attitude," senior Kirstyn Brandwein said.