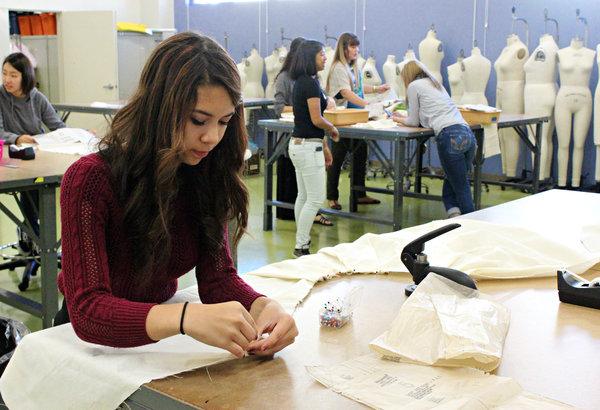 Juniors in Fashion Design have begun participating in a city-wide fashion design competition.
The Fashion Forward project, created and run by the Junior League of Las Vegas (JLLV), is inspired by the television series Project Runway, and will provide students with the opportunity to showcase their creativity and skills on the runway at Fashion Show Mall.
"The first challenge is to sew a muslin mock up pleated sundress. It showcases the students ability to interpret a commercial pattern and their advanced sewing skills, such as stay stitching, under-stitching and sewing numerous sized pleats," Fashion Design instructor Mrs. Sheila Petrosky said.
Students will be judged based on the quality of their garments by a group of industry professionals who will determine which designers will move on as finalists and participate in the final challenge.
"The second challenge is to draw a nine head croquis (fashion sketch) of a garment inspired by a randomly assigned city. There were 10 cities as an option," Petrosky said.
Once the chosen finalists are assigned a city for their outfit and design a sketch, they will proceed to sew their garments in class.
"This will be one of the first sewing projects we'll be doing on our own. By taking bits and pieces of other patterns and putting them together, we can create one singular outfit that represents the city we were assigned," junior Samantha Cruzado said.
Assigned cities from around the world include the following:
Barcelona, Spain
Venice, Italy
Stockholm, Sweden
Mumbai, India
St. Petersburg, Russia
Shanghai, China
Johannesburg, South Africa
Melbourne, Australia
Tel Aviv, Israel
Montreal, Canada
"Later on, if we're chosen as finalists, we are going to either model the outfits ourselves or have someone else model them down the runway," Cruzado said.
The runway show, due to take place at Fashion Show Mall sometime in the spring (the exact date TBA), will feature the products of about 50 students from various local high schools.
"My hopes in this project is for all my students to try their best, enjoy the creative process, and rock the runway," Petrosky said.