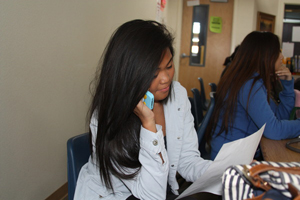 Adviser Ms. Krista Boivie and FBLA Club members have been holding meetings every Thursday from Oct. 18 to Nov. 1 to raise money for the FBLA state competition. The students surveyed Nevada citizens, and received donations from the Americans For Prosperity organization based on the number of students who participated.
"At first, the phone bank was rather bland and boring, but after the first 30 calls, the situation became more enjoyable. You can use fake names so after the first few initial calls, the names became really ridiculous which cracked me up," senior Han Diep said.
AFP provides $500 for 20 students and increases with each additional student.
"It is a casual activity that's completely optional to whoever wants to come," Boivie said.
During the call bank, students called Nevada citizens and asked whether President Obama's policies have either helped or hurt the Nevada economy.

Loading ...
"The call bank was a really big lesson in rejection. From a leadership standpoint, failure is something we learn from while continuing to preserve," senior Vincent Adrada said.
AFP is a non-partisan organization that aims to promote limited government, lower taxes, and more freedom.