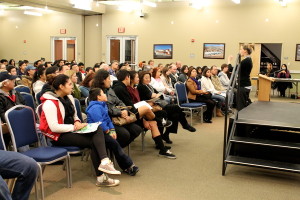 Mrs. Elena Clavel, counselor, organized the annual Financial Aid Night for those seniors and their parents who wanted to learn more about financial aid and scholarships on Dec. 14 in the Coyote Ballroom.
"Each counselor had different responsibilities; one of my responsibilities is putting together financial aid night every year. Parents and students will receive information on how the federal government can help students pay for educational expenses," Clavel said.
Throughout the night, seniors and their parents learned about different scholarships, how to complete free applications for federal student aid and had the opportunity to ask representatives about any questions or concerns they had.
"I had no idea how helpful and informative the night would be. I learned a lot about how much money I could receive from the government," senior Kristelle Dealca said.
Guest speaker, Admissions Counselor Mrs. Barb Roberts of UNLV, also discussed what students needed to know about scholarships.
"Students should know that it is in their best interest to apply for as many scholarships as possible, even the smaller ones," Roberts said.